Ingo Siegert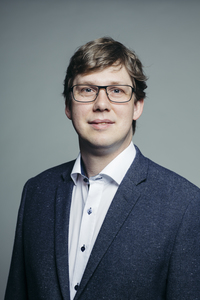 Hochschullehrer/-in
Jun.-Prof. Dr.-Ing. Ingo Siegert
Institut für Informations- und Kommunikationstechnik (IIKT)
Fachgebiet Mobile Dialogsysteme

Universitätsplatz 2, 39106, Magdeburg, G03-323
vCard
Lebenslauf
seit 11/2018
Juniorprofessur Mobile Dialogsysteme am Institut für Informations- und Kommunikationstechnik der Otto-von-Guericke-Universität Magdeburg
04/2015 - 10/2018
Post-Doc (wissenschaftlicher Mitarbeiter) am Lehrstuhl Kognitive Systeme
03/2015
Promotion zum Doktoringenieur (Dr.-Ing.)
Titel der Arbeit:
Emotional and User-Specific Cues for Improved Analysis of Naturalistic Interactions
Otto-von-Guericke-Universität Magdeburg
07/2009-03/2015
Wissenschaftlicher Mitarbeiter am Lehrstuhl Kognitive Systeme im SFB/TRR 62
05/2009
Diplom in Ingenieurwissenschaften; Titel der Diplomarbeit: Implementierung einer Sprecherverifikation für ein generisches Telefon-Dialogsystem

9/2006 - 05/2009
mit Unterbrechungen

Studentische Hilfskraft am Lehrstuhl Kognitive Systeme

10/2007 - 03/2008

Praktikum IBM Deutschland Entwicklung GmbH
Abteilung WebSphere VoiceServer Language Development
10/2003
Beginn des Studiums der Informationstechnologie an der Otto-von-Guericke-Universität Magdeburg
06/2003
Erwerb der allgemeinen Hochschulreife am Gymnasium Stadtfeld Wernigerode
Dissertation
Emotional and User-Specific Cues for Improved Analysis of Naturalistic Interactions. Otto-von-Guericke-Universität Magdeburg, 2015
Forschungsinteressen
Sprachverarbeitung, Dialogdesign, Mensch-Maschine-Interaktion, Modellierung der Nutzerstimmung und -intention, Sprechergruppen und Emotionen
Mitgliedschaften
Institute of Electrical and Electronics Engineers (IEEE)
Mitglied "Usability in Germany" (UiG)
2019
Abstrakt
Buchbeitrag
2018
Begutachteter Zeitschriftenartikel
Buchbeitrag
2017
Begutachteter Zeitschriftenartikel
Buchbeitrag
2016
Artikel in Kongressband
Begutachteter Zeitschriftenartikel
Buchbeitrag
2015
Artikel in Kongressband
Begutachteter Zeitschriftenartikel
Buchbeitrag
Dissertation
Herausgeberschaft
2014
Artikel in Kongressband
Begutachteter Zeitschriftenartikel
Buchbeitrag
2013
Begutachteter Zeitschriftenartikel
Buchbeitrag
Herausgeberschaft
2012
Abstrakt
Buchbeitrag
2011
Abstrakt
Buchbeitrag
2010
Buchbeitrag
akzeptierte Publikationen
folgende Publikationen sind akzeptiert aber noch nicht veröffentlicht

Ronald Böck, Olga Egorow, Juliane Höbel-Müller, Alicia Flores Lotz, Ingo Siegert and Andreas Wendemuth (In print). Anticipating the User: Acoustic Disposition Recognition in Intelligent Interactions. In Esposito A., Esposito A., Jain L.C. Innovations in Big Data Mining and Embedded Knowledge: Domestic and Social Context Challenges, Intelligent Systems Reference Library, Springer
Juliane Höbel-Müller, Ingo Siegert, Norman Weißkirchen, Andreas Wendemuth. EVALUATION OF AN I-VECTOR BASED ELDERLY IDENTIFICATION SYSTEM FOR AMBIENT INTELLIGENCE, 7. Workshop Kognitive Systeme: Mensch, Teams, Systeme und Automaten, Braunschweig, Juni 2018
Wissenschaftliche Aktivitäten
Organisator
Konferenzen
SPECOM 2018, 20th International Conference on Speech and Computer, 18-22 September, 2018, Leipzig, Germany, Local Organizing Committee Special Session Chair
Summer Schools
International Summer School on Companion Technology (ISSCT 2017) - Theory and Application
In conjunction with the IEEE International Conference on Companion Technology, Ulm, Germany
September 9-13, 2017
Workshops
2nd International Workshop on Emotion Representations and Modelling for Companion Technologies (ERM4CT 2016),
Workshop at ICMI 2016 (18th ACM International Conference on Multimodal Interaction),
Seattle, USA, November 16th, 2016
For further information: click here
International Workshop on Emotion Representations and Modelling for Companion Technologies (ERM4CT 2015),
Workshop at ICMI 2015 (17th ACM International Conference on Multimodal Interaction),
Seattle, USA, November 13th, 2015
For further information: click here
1st International Workshop on Techniques Towards Companion Technologies (T2CT 2013)
Workshop at IVA 2013 (International Conference on Intelligent Virtual Agents), Edinburgh, UK
August 28, 2013
For further information: click here
Herausgeberschaften
ERM4CT '16: Proceedings of the 2nd International Workshop on Emotion Representations and Modelling for Companion Technologies.
Eds.: Kim Hartmann, Ingo Siegert, Ali Albert Salah and Khiet P. Truong.
ACM, New York, NY, USA, 2016
Proceedings of the International Workshop on Emotion Representations and Modelling for Companion Technologies.
Eds: Kim Hartmann, Ingo Siegert, Björn Schuller, Louis-Philippe Morency, Albert Ali Salah and Ronald Böck
ACM, New York, NY, USA, 2015
Joint Proceedings of the 2013th T2CT and CCGL Workshops,
Eds: Ronald Böck, Nick Degens, Dirk Heylen, Sandy Louchart, Wolfgang Minker, Louis-Philippe Morency, Asad Nazir, Friedhelm Schwenker, Ingo Siegert
Edinburgh, UK, August 28, 2013
Publisher: Otto von Guericke University Magdeburg,
ISBN: 978-3-940961-99-0.
eingeladene Vorträge/Veranstaltungen
2018 -- Smarte Systeme vermitteln (Bachelor) - Smarte Ingenieure für die Industrie
Co-Speaker, NI Technologie- und Anwenderkongress VIP 2018
2017 Freud und Leid am Ticketautomaten Situations- und Dispositionserkennende Companiontechnologie,
Gastvortrag an der Hochschule für Telekommunikation, Leipzig

2015 Situations- und Dispositionserkennende Companiontechnologie Vortrag im Rahmen der Auszeichnung "Deutschland Land der Ideen" an den SFB/TRR-62

2013 Companion-Technology The Future of Cognitive Technical Systems, Introduction talk at the 1st International Workshop on Techniques Towards Companion
Technologies
Auszeichnung
Ronald Böck, Olga Egorow, Ingo Siegert und Andreas Wendemuth. "Comparative Study on Normalisation in Emotion Recognition from Speech". In: Proceedings
of the 9th International Conference on Intelligent Human Computer Interaction (IHCI 2017). Hrsg. von Patrick Horain, Catherine Achard und Malik Mallem. Cham: Springer International Publishing, 2017, S. 189201, Best Paper Award.
Eran Raveh, Ingmar Steiner, Ingo Siegert, Iona Gesinger, Bernd Möbius. COMPARING PHONETIC CHANGES IN COMPUTER-DIRECTED AND HUMAN-DIRECTED SPEECH. Elektronische Sprachsignalverarbeitung 2019: Tagungsband der 39. Konferenz, Dresden, 6.-8. März 2019 - Dresden: TUDpress, S. 42-49, Studend Paper Award
Aktuelle Projekte
Abgeschlossene Projekte
Betreute Qualifizierungsarbeiten
Ich hatte die Ehre folgende Studenten und ihre Arbeiten zu betreuen
2017
Mainampati Vasudeva Reddy
Overview and Comparison of Computer Vision Algorithms to Detect and Describe Local Features in Images'
Non-Technical Project Report
Tang Shuran
Analysis of acoustic features and automatic recognition experiments for conversation addressee detection
Masterarbeit
2016
Thomas Aab
Datenvorverarbeitung und Klassifizierung von Kopfdrehungen und Kopfbeschleunigung mittels MEMS Sensorik
Bachelorarbeit

Srinivasa Rao Peddi
Implementation and Investigations of Broad Phoneme Recognisers for Discourse Particle Detection
Masterarbeit

Linh Linda Duong
Untersuchung des Einflusses unterschiedlicher Audiospeicherformate und Kompressionsformate auf die Audioqualität
Bachelorarbeit (Betreuung als Kooperation mit Alicia Lotz)
Somtapa Bhattacharya
Implementation of improved Methods for Voice Activity Detection
Technical Project
Somtapa Bhattacharya
Evolution of Speech Processing
Non-technical Project
Daile Vera Poungue Wetoumdu
Überlappung in der Mensch-Maschine-Interaktion
Forschungsprojekt
2015
Fengjie Zhang
Comparison of Speech Emotion Recognition using Neural Networks and Deep Belief Networks having limited data material
Master Thesis
Yu Bi
Investigations on Wuality Asessment for Emotion Speech Data
Master Thesis
Bharath Bhat
Overlapping Speech
Non-technical Project
2014
Alicia Flores Lotz
Differentiation von Form-Funktions-Verläufen des Diskurspartikels "hm" über unterschiedliche mathematische Herangehensweisen
Masterarbeit
René Kallweit
Sprachsteuerung eines Roboters über eine Raspberry Pi bzw. Arduino Plattform
Masterarbeit
2012
Thomas Willner
Zerstörungsfreie Werkstoffprüfung von PMMA-Scheiben mit Hilfe von Lambwellen und digitalen Filtern
Studienarbeit
Christian Sporleder
Zerstörungsfreie Werkstoffprüfung von PMMA-Scheiben mit Hilfe von Lambwellen zur Detektion von Beschädigungen
Studienarbeit
Daniel Hellge-Theune
Erstellung und Evaluierung einer parametrisierbaren Onlineabfrage für ein Phonemlexikon der deutschen Sprache
Forschungsprojekt

Universitätsklinik für Psychosomatische Medizin und Psychotherapie, Dr. Julia Krüger, Prof. Dr. Jörg Frommer

Ludwig-Maximilians-Universität München, Department Psychologie, Lehrstuhl psychologische Methodenlehre und Diagnostik

University of Southern Queensland, Toowoomba, Australien, Dr. Rajib Rana

Hochschule für Telekommunikation (HfTL), Leipzig, Prof. Dr. Oliver Jokisch